We dive BP&W ( back plate & wings) that have been scaled down to size for use with single tanks. This is a very neat streamlined and efficient equipment configuration that is also popular with the DIR followers.

We began adapting Hogarthian Concepts into our own open water diving back in 1995. We have always been willing to share what we are doing but we try to stop short of imposing our will on others. IF you have an interest in converting your style at the same time that you are improving your skills, we will try to help with that as well.

We favor the use of a 5 foot (cavern hose) with single tank diving in open water. You can use a 7 foot cave hose but management is a bit more complicated. A 5 foot hose will afford the needed control to the donor in an OOA situation. We also prefer a tuned down or adjustable 2nd stage on a necklace. Once upon a time we combined the long hose with an alternate inflator type back up but actual events taught us that these "nifty tools" breath a bit wet in some positions.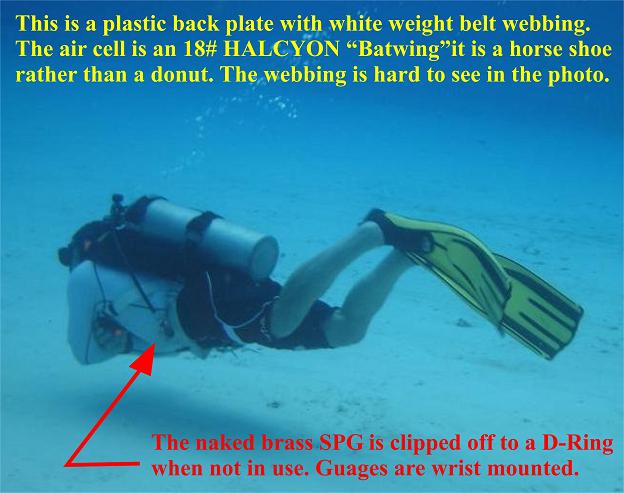 We now dive what is a Hogarthian Adaptation for single tank diving.
In our videos, Maureen is diving a 27# air cell in a donut configuration. This size and shape is probably the most practical choice for most divers.
Larger air cells in combination with single tanks usually spell management problems or indicate a diver who might be wearing too much weight.